Below is information on how a Review user can navigate through the claims review process.
Check the landing page to see if you have claims requiring review
If you have claims in your account, your landing page will look similar to the screenshot below. If you are a part of a health system with multiple covered entities, claims will be segmented and displayed by covered entity.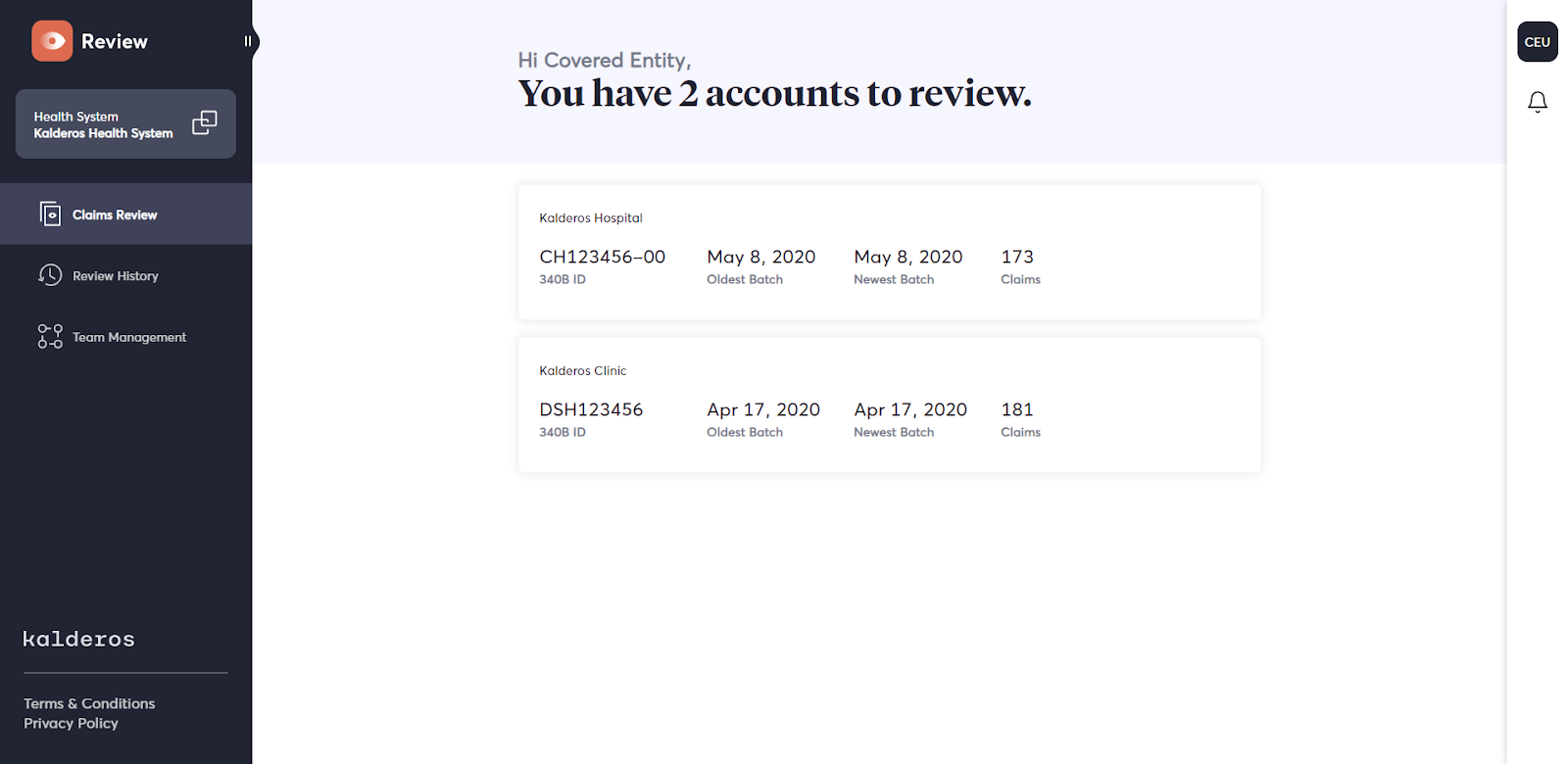 If you don't have claims to review, you will see the following: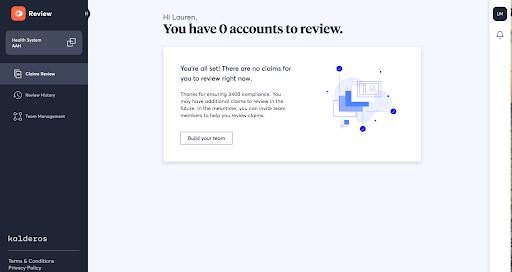 Select a covered entity to begin review
If you have multiple covered entities in your health system, hover over the covered entity you want to begin with and click anywhere on the box to navigate to the claims page.
The next page will display all the claims that need to be reviewed for that covered entity.

Review claims
Each row designates a claim that needs to be reviewed. Review each claim to determine if it corresponds with a 340B drug dispensation. Select a response from the drop down options under the column titled "340B Drug Dispensed?"
When selecting a response, please refer to your system of record to identify the status of that claim. If you are unable to find the claim in your system or have a response that isn't a "yes" or "no", there are claims response options that will allow you to indicate that.
Please refer to our additional documentation for extra help navigating through the claims review process:
There are multiple methods for completing claims review.
In addition to individually responding to claims in the app, another option is to batch respond.
If you have confirmed that multiple claims have the same response, you can select more than one claim or all claims at once and a new header will pop-up with a blue "Response" drop-down.

Selecting a response option from this drop-down will apply that response to all the claims that are selected.
An additional option is to download the claims table as an Excel file and manually update claims outside of the application.
To download, use the "Download Table" button at the bottom of the screen.

When you are finished responding to the claims offline, make sure to upload the claims back into the same screen using the "Upload Claims" button to continue with submitting the reviewed claims.
Submit reviewed claims
This is an important step in the process. Reviewed claims that aren't submitted will not be processed by Kalderos.
Once you've finished providing a response for each claim, hit the blue "Submit Reviewed Claims" button at the bottom of the page.
You will be directed to a final page where you must confirm submission before it will be processed.
Check the box that affirms the review inquiry was completed in good faith and all responses were completed to the best of your knowledge, then hit the "Confirm Submission" button.

Complete review for all covered entities
Navigate to the home screen, and select a different covered entity. Repeat the steps above until you have completed claims review for all covered entities in your account that have available claims.